How can my company
achieve and maintain
WCAG compliance?
TECHNOLOGY
What Is WCAG, and
Why Should It Matter
for Your Business?

DIGITAL TRANSFORMATION
Essential Digital
Leadership Traits
iBridge partners with you to manage your data migration, technology integration, and system maintenance.
Your dynamic enterprise is on a growth trajectory. To support that expansion, you'll need flexibility to scale up the infrastructure on demand and deploy custom-developed or out-of-the-box software across the organization.
Bring your technology challenges to iBridge, and your business priorities become our priorities. We work with you in a partnership that's so close, you'll feel like iBridge is your own in-house team rather than a service provider. For our part, we get the job done on time and under budget, and without disrupting your business operations.
World-Class Migration Services
Put your data to work for you. iBridge will migrate, organize, transform, and automate all your data and related processes, so you can streamline your strategic and operational resources and tap into them on demand.
Legacy System Migration
Is it time to upgrade or transition your legacy system to a new platform? Don't put it off. Call iBridge. We've seen it all, and we've done it all. Our experts will migrate your old system and transform it into an efficient, modern tech stack with all the tools and resources to drive your business forward.
Legacy Data Migration
If you have a data-related challenge, big or small, iBridge will partner with you to care of your data while you take care of the business. Bring us your toughest project, and we'll complete it to your specifications, on time, and on budget.
EMR Data Migration
Doctor's orders: go to 100% electronic medical records, stat! iBridge takes the pain out of EMR migration, whether you choose EPIC or Cerner. Our medical records experts speak fluent FHIR, and know how to help your organization transition to a fully HIPAA-compliant system with all patient histories intact.
Microsoft 365 Migration
Working from home is the new normal, but your centralized systems weren't designed for that kind of stress. Worse, remote employees lose out on the collaboration and teamwork you've tried so hard to achieve. Energize your teams and relieve the burden on your systems with a Microsoft 365 implementation by iBridge.
Microsoft 365 Evaluation
You standardized on Microsoft 365®, but don't know if you are providing all the tools needed by your remote workers? You have an existing SharePoint® license but don't know how to unleash its full potential. We'll review your existing licenses and processes, and work with you to maximize the value of your investment.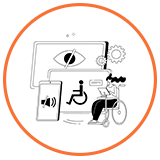 WCAG
Web Accessibility Content Guidelines (WCAG) provide industry-standard digital accessibility benchmarks. The World Wide Web Consortium (WC3) created and continues to update these guidelines so that people with disabilities can read, interpret, and navigate online content.
Platforms and Intelligence
Your next big tech challenge may be a first for you, but iBridge has done it all before. Our programmers and program managers have decades of experience in migrating legacy systems and databases to modern, cloud-based platforms. When you work with iBridge, you tap into an entire workforce that is dedicated to solving your business problems and streamlining your processes.
Infrastructure-as-a-service
We help companies leverage infrastructure-as-a-service as a new initiative, validate your existing digital transformation strategy, or help connect your existing disparate systems.

Software Development
iBridge is prepared to respond to your software needs whether you need to extend your in-house talent or need a total turnkey solution. Our team of engineers, architects, and project managers have extensive knowledge of .NET, Ruby, Java, front end, mobile, blockchain, app development, and cloud-based engineering.
Business Intelligence
Building your business or market share in today's global, high-competitive economy requires understand "your world" and the larger world around you. Business intelligence tools can provide insights, understanding, performance tracking and better decision making.
We value our relationship with our clients and we're proud of such relationships that have lasted a lifetime for us. It's not only about understanding the business problem but it's about 'getting it done and getting it done well'.
That was the last of it. Phew. Thank you for all your help on this. You did an amazing job and really reduced a lot of my stress from this project. Please feel free to submit your final invoice at any time. We would appreciate it if you could do so before next Tuesday. I can't remember if I have already provided a PO for this month. If you need one please don't hesitate to let me know. Thank you.
IKON Office Solutions, Inc.
I just wanted to thank you and your team for doing such a great job and turning our project around so quickly. The client will be delighted to receive this project today, 3 days ahead of schedule. We will certainly send more work your way.
Capitol Digital Document Solutions
Earth Class Mail made the strategic decision in 2009 to partner with iBridge to process confidential and time sensitive digital information. The partnership required the iBridge to complete data processing and QA within one business day. iBridge handled the initial volume of 30,000 transactions a month in 2010 and has stayed on track as those volumes are now 80,000 transaction a month in 2016. The iBridge team consistently performs at a high-level with high accuracy, and proved, very agile as the platform, and processes changed over the years. The cost benefit by partnering with iBridge helped control day to day operating expenses that allowed Earth Class Mail to continue with its growth strategy. I would highly recommend the iBridge team to anyone looking for help with their business processes.
iBridge is great to work with. Their goal is that the customer is happy with the end result, and they make every accommodation to ensure they've deliver the product that you as the customer expect. It was also a tremendous benefit to us that they were able to set up and complete the imaging work on-site at a competitive price instead of shipping the documents to them. It allowed us to continue active use of the documents through the imaging process without an interruption to our business.
Baltimore Gas and Electric Company
We all get used to "no news is good news" within our industry, but with the job that you and your team did for me these past few days, I didn't think silence would do justice to the amazing job you all did. I wanted to take a moment to thank you and your entire team for the way that you all handled my project. From the very beginning, you and your team took this on without any hesitation and performed even better than I had expected, which soothed my nerves greatly. I can't thank you enough for you and your team's efforts, your assistance saved my client many millions of dollars, I know the project wasn't that large, but it is to this date, the most important project we have had. Thanks for always being the best partner I could have ever asked for and for always being willing to take on any task no matter how small or large it may be.
We are a service bureau; we typically process 80 to 100 discreet projects each month. A large percentage of these projects require either data capture from image or image review and manipulation. We used to perform these operations with in-house staff, but we were not able to scale our staff to keep pace with our capacity requirements. Ten years ago, we started partnering with iBridge, we were initially impressed with their competence, accuracy and their ability to quickly scale up to keep pace with our rapidly changing requirements. In the ensuing ten years, iBridge has become not only a valued partner, but also an integral part of our daily production workflow. To borrow from an old workplace adage, "you will never get fired for choosing iBridge"
iBridge has been a critical part of our operation for the last six years. They have processed 10's of thousands of documents a month for us with world-class accuracy. The team is committed to being the best with a strong focus on accuracy, speed, and process improvements. We can count on iBridge to manage the process from end to end, updating training materials, and performing against SLA's. As a result, they not only give us time back, they have given us peace of mind.
We have worked with iBridge over the years on strategy for litigation matters and developing plans for consolidation of services to drive efficiency and reduce operational costs for the firm. They are reliable, neutral and never hesitate to provide advice and analysis to help us make critical decisions. We have clear visibility in the areas of work due to the collaborative nature of the work performed.
Trial attorney and firm leader
Get the 411 on all the hot topics in tech and industry, with the iBridge Daily Digest. Sign up now for your free subscription.
We're proud to be a trusted, long-term partner to some of the world's best companies. Our clients turn to iBridge for solutions to problem after problem, and we continue to create value for them over years of dedicated service.
Bring your business challenges to iBridge, and your business priorities become our priorities. We work with you in a partnership that's so close, you'll feel like iBridge is your own in-house team rather than a service provider. For our part, we get the job done on time and under budget, and without disrupting your business operations.
How can iBridge support your business goals through technology? Contact us here and let's find out together!
The products mentioned are owned and trademarked by their respected owners.